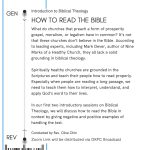 13 Feb 2022

How to read the Bible in Context?

What do churches that preach a form of prosperity gospel, moralism, or legalism hasve in common? It's not that these churches don't believe in the bible. According to leading experts, including Mark Dever, author of Nine Marks of a Healthy Church, they all lack a solid grounding in Biblical Theology

Spiritually healthy churches are grounded in the Scriptures and teach their people how to read properly Especially when people are reading a long passage, we need to teach them how to interpret, understand, and apply God's word to their lives.

In our first two introductory sessions on Biblical Theology, we will discuss how to read the Bible in context by giving negative and positive examples of handling the text.