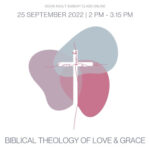 25 Sep 2022

Of the many biblical themes on God, the standouts must include love and grace. However, the God of the Bible is not an impersonal abstraction. The living God is the God of love and grace. But what do such terms mean? The Bible doesn't just define these big ideas, but they are embodied in stories as well as in direction affirmations. In particular, it
is Jesus Christ and his story that provide the lens through which to view what the big ideas are about.

In this lesson, we will explore how God's love and grace are demonstrated and portrayed in the Bible. The talk concludes with discussion on their relevance to Christian discipleship and living.