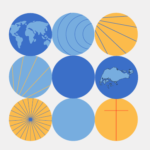 11 Sep 2022

Why is the People of God one of the most significant and comprehensive biblical teachings in the Bible?

With its roots going back to the creation narrative, this doctrine takes form in the calling of Abraham and becomes the central focus of Old Testament history. That calling of Abraham included the promise of blessing for all nations (Gen 12:3). But the nation of Israel, as God's
people, suffered judgment. Christ came to fulfil God's promises to Abraham and thus reconstitute God's people from all the nations of the earth.

In this session, we will consider some of the spiritual benefits and practical implications of being the People of God.