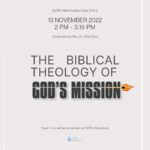 13 Nov 2022

Given the many challenges – financial, geo-political, and social – that Singapore and the rest of the world are facing today, many people ask where is God and what is he doing about all the problems? How should the church do mission and evangelism?

The entire Bible traces the story from the original creation to the new creation, from humanity's rebellion against the Creator to God's provision of redemption in the person and work of Jesus Christ. The main thrust of the Bible is therefore also the story of God's mission to bring sinful humanity back to himself and to restore it to its original state of living in communion with him.

In our lesson, we will highlight the specific aspects of mission to an unbelieving world and offer practical insights on how to do effective mission and evangelism.