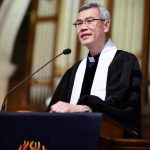 2 Apr 2023

This class will explore further the important question – whatis the Gospel? If we understand the Gospel as Paul definesit in 1 Cor 15:3-4 – the death, burial, and resurrection of Christ – it naturally begs the question if Jesus preached theGospel.

We know from the four gospel accounts that Jesus preached the Kingdom of God. Is the Gospel according to Paul different from the Gospel according to Jesus? Some Christian leaders would go so far as to say that "I don't believe in the Pauline gospel, but I believe in the Kingdom gospel."

Understanding the Gospel presupposes a certain way ofreading the Bible storyline. In this class, we will discus

how to read the synoptic gospel accounts,
the nature of the Kingdom of God, and
how to reconcile the apparent tension between the Pauline gospel and the Kingdom gospel when it comes to sharing the good news with others.