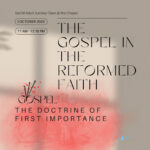 1 Oct 2023

Most, if not all, Christians agree that the gospel—the good news—is centred on the death, burial, and resurrection of Jesus Christ (1 Cor 15:3). However, not all Christians agree on the finer nuances of Christian theology.

In this lesson, we will explore the Reformed(Presbyterian) perspective on the gospel as it relates to

God's Law,
God'sunconditional election of believers, and
their implications for life and ministry.