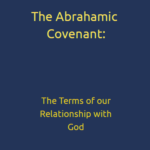 5 Mar 2023

The Terms of Our Relationship with God

The gospel is about placing our faith and trust in Jesus Christ for our salvation. That means Christians have a personal relationship with God. How should we think of the relationship between God and humans? To answer that question and tounderstand the gospel plotline in the Bible, we must make sense of God's promises to Abraham.

In this session, we will discuss a few important matters.

We will examine how Christians typically relate to God.
We will discuss the promises and terms God made with Abraham as the basis for Christian faith and living.
We will talk about the significance of Abraham, as he is the root figure for three major world religions.