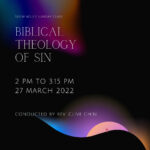 27 Mar 2022

It is hard to avoid the conclusion that there is something fundamentally wrong with the world. Of course, every world religion has its own diagnosis of the problem. So, it is
important to get the right diagnosis before offering the proper prescription. According to Christianity our biggest problem is sin. What exactly is sin, particularly in view of the
fact that there are more than fifty different terms used in the Bible to describe this problem? In our study of the biblical theology of sin, we will consider its nature, the personal, social, and cosmic consequences of sin, and God's offer of salvation in Jesus Christ.